Sosaley Technologies is delivering reliable and quality products in multiple domains with enhanced features including smartphone and cloud connectivity. We specialize in design and development of embedded systems based products for healthcare, automotive, power and other industries.
Our healthcare unit, headed by an expert in medical electronics with international product development experience and a Research and Development team comprising of engineers with rich experience and excellent academic background, offers end-to-end solutions in hardware, software and analytics. We have successfully delivered turnkey healthcare products to our international clientele.
Our products are sophisticated with utmost quality and yet cost effective, aimed to provide healthcare access to inaccessible areas.
Introducing world's fastest portable medical-grade ECG machine.
heartTarang™, the Wireless ECG system from Sosaley Technologies delivers all that power and convenience.
3, 6 and 12 medical-grade lead channels
ECG display at 220 samples/sec per channel
Powered with the HeartTarang Android App for real-time results
Automatic data storage on phone/tablet
7 ECG Data (unconfirmed) interpretation types: Normal Sinus Rhythm Hypertensive, Hypotensive, Ventricular Fibrillation, Ventricular tachycardia Bradycardia & Asystole.
Monitor additional essential parameters such as SPO2, Heart rate, NIBP and temperature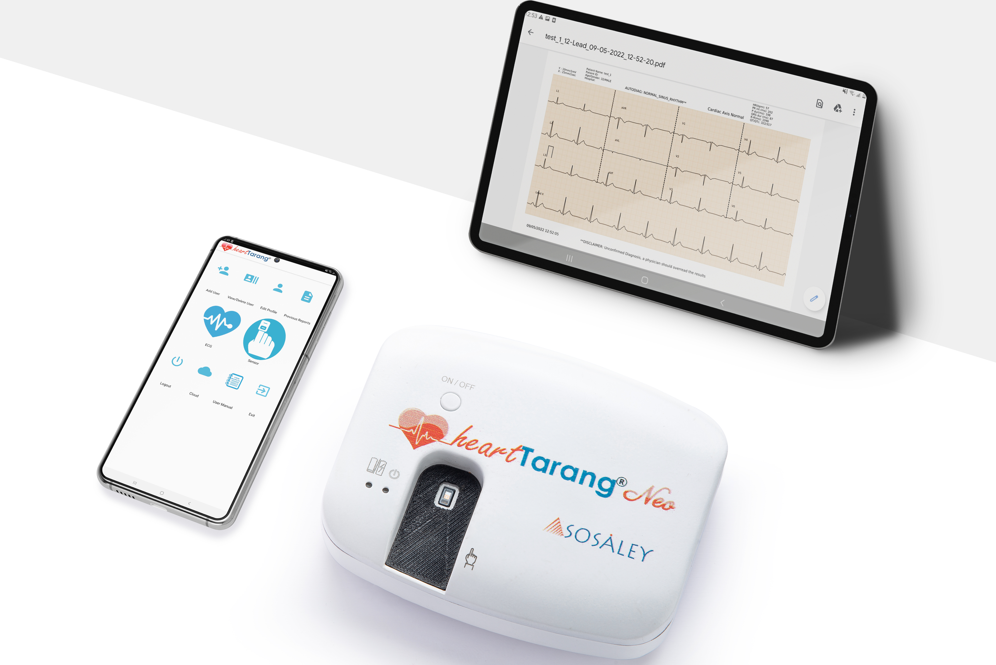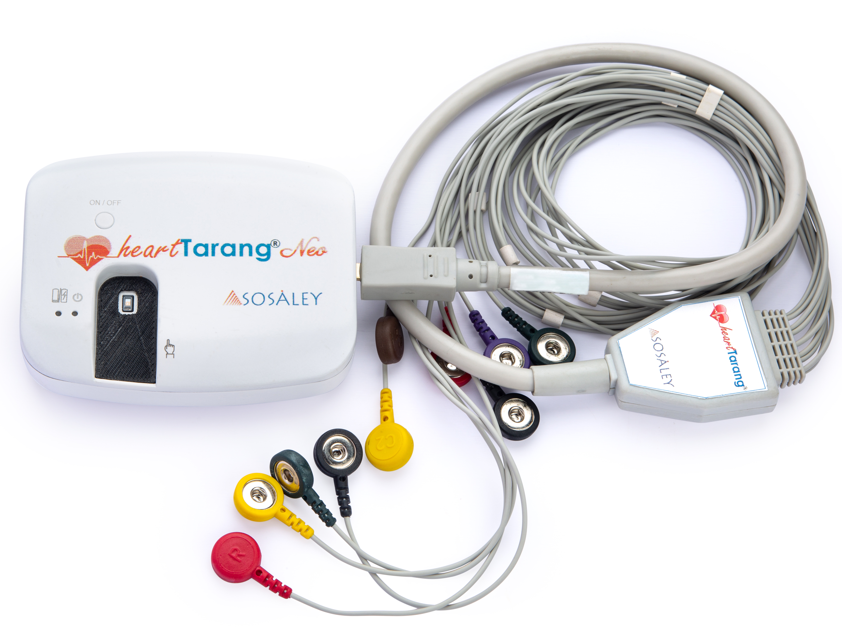 We are developing a Automatic External Defibrillator (AED)
Highly compact unit
ECG aquisition and detection of all arrhythmia
Voice guidance in English and Local languages
Display of ECG and vital parameters
Indicators for right/wrong usage
We are endowed with a strong team of healthcare domain experts and an experienced software development team that can successfully address the challenges of medical equipment manufacturers.
We place our clients at the center of everything we do. We are not just outsourced partners, but reliable professionals who can help you from design to execution. We understand your needs and tailor our solutions and services accordingly.
Our ability to develop and deliver innovative healthcare solutions and services using the best of technology. Whether it is in integration, AI/ML advancement, analytics, or assistance with certification & compliance we can engineer what you desire.
Medical Electronics – Harnessing the power of technology to drive advancements in the medical field.
Healthcare Engineering – Developing customized solutions to address the unique challenges of the healthcare industry.
Embedded Hardware and Software – Creating reliable and efficient embedded systems for various applications.
Proof of Concept and Prototyping – Transforming ideas into tangible prototypes for validation and testing.
Turnkey Projects – Taking full ownership of projects, from conception to delivery, ensuring successful outcomes.